Over the last 20 years, there have been tremendous technological improvements when it comes to building hotels, the equipment that supports operations, and even the guest room furnishings. At the same time, there has been an equivalent increase in guest expectations and behavior. Today's guest does not want to waste time searching, booking, checking in, paying, and any other aspects of the service that does not directly benefit them. Once checked in, there is even less tolerance when service and accommodations do not meet the guests' standards.
The hotel industry's vision must be to make the guest experience before, during, and after the guest stay as simple as the experience when buying music on iTunes. Maybe it's time "to step out of the box" because "thinking outside the box" is no longer good enough.
Hotel Management as a discipline has not evolved significantly in the past two decades, despite the investment in new technology and systems. One of the main drivers is a lack of understanding of the opportunities and the challenges of the interaction between people and technology. Next generation hoteliers and owners must not only embrace this opportunity, but also consider technology as an integral part of the management practice. By doing this technology gets back its original meaning: "objects or methods to extend human capabilities."
It is not enough to just know how; we must also understand the underlying drivers. It is through this understanding we can think creatively. In other words, we have to step out of the box to rethink Hotel Management. We must approach hotel management through innovative thinking that is both empirical and scientific.
Hotel Management is a complex and extensive subject. For this article I want to look at productivity and quality management in housekeeping, or more specifically the cleaning of hotel rooms. How can we improve the work process to achieve lasting and desired quality and productivity at the same time?
Guest's minimum requirement
A guest room that is clean is a critical factor among the guest's minimum requirements. The main product that the guest pays for is a clean and functional room. Anything else should be considered a "manufacturing production error" and the guest is entitled to compensation or refund. Correcting such errors or mistakes is costly, not only from the direct loss of profits, but also in many other areas. For example, next time the guest will choose a competitor or give the hotel a bad review. But worst of all is the irritation and frustration for employees and management. When there are discrepancies, we tend to intensify the number of quality control inspections. In many hotels the management and the General Manager carry out spot checks. Does that help? Maybe for a short while, but what happens to productivity and motivation among housekeeping attendants? What signal do you send to the rest of the organization when it comes to trusting the employees and their work? I believe this kind of approach is trying to erase the symptoms rather than going directly to the cause. Think about Toyota as a car manufacturer – would they use the same approach? No, the management would go straight to the manufacturing process. The cause lies in the working methodology and process. And, the responsibility to change the management process lies with senior management.
To illustrate the required change in management process, let us imagine the following scenario: Hair was discovered on the bathroom floor in room 501. The message to Housekeeping will be "deviation RH-14 501 and the timestamp." The Head Housekeeper checks and corrects the implementation of "RH-14" with the person who cleaned room 501 on the same day as the deviation occurred. If several maids have failed with the same deviation of RH-14, there is a pattern pointing to errors in the design of the workflow. Or is there an issue with the change in infrastructure that is creating this problem? By taking this approach, the property will not only achieve long term sustainable improvements, but it will also be perceived positively by the employee because the person will then go through a learning process rather than a rebuke.
I call this design workflow DoT-QAP or Delivery on Time and Quality as Promised. It ensures that all workers perform tasks on a consistent and disciplined manner with respect to defined standards. This contributes to predictable and manageable quality and consistent productivity, regardless of room types, location or type of occupancy. The time to complete cleaning will vary slightly, but not as much if the workflow had been left to the individual room attendant. All subtasks must be performed in sequence rather than from point to point. The method works the same way as an assembly line principle that minimizes supervision because task B cannot be performed until task A is completed.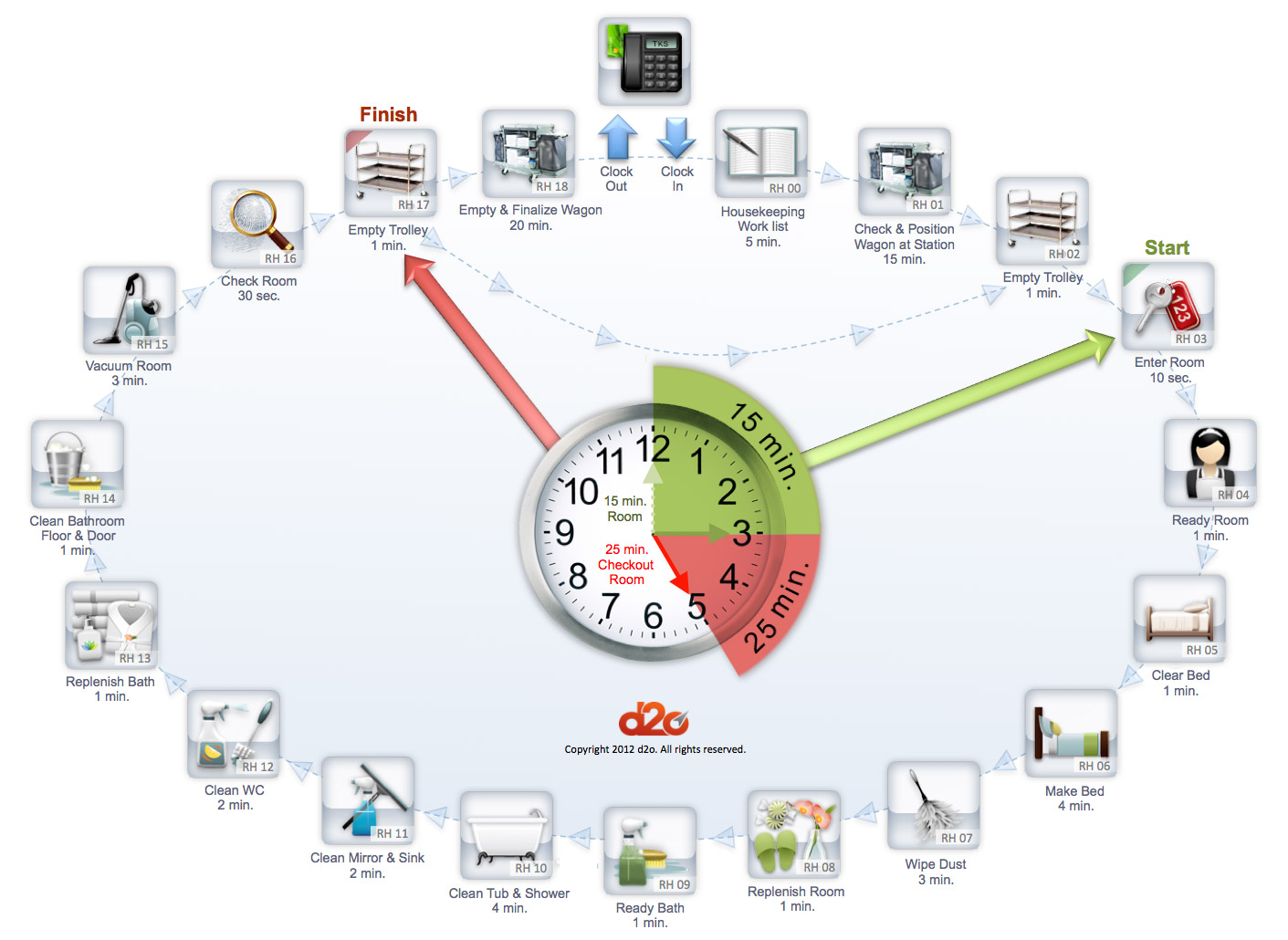 18 tasks
Based on the DoT-QAP work process illustrated above, the daily work of a maid consists of 18 tasks. Each task consists of several sub-tasks, and the chart shows in detail how the tasks are to be performed and in what order. The sequence is very important, taking into account other factors such as the worker safety, ergonomics, efficiency, and especially quality control as an integral part of the process.
Stay-over rooms are cleaned differently from departure rooms at most hotels. In this case, the hotel now has the opportunity to define which sub-tasks should be excluded and which sub-tasks should be carried out differently.
Consequences of Environmental Certification
Many hotels have either been awarded an environmental certification. This means among other things that the hotels have to use low impact and weaker cleaning chemicals. How many hotels have changed their cleaning methods or replaced equipment to maintain the same cleaning standards as before? Use of weaker chemicals with unchanged working techniques and equipment result in less sanitary sinks, bathrooms, tile walls, and toilets. How is productivity affected if the room attendant must let chemicals work longer? What about the extra physical burden imposed on room attendants because of increased and harder scrubbing in a physiologically straining position? These are a few examples of how changes in parts of the process affect the rest of the process. This important part of management cannot be left to the individual employee. Top management's active involvement and leadership is required to examine, identify, and then implement change management of the process. When deviations occur, the cause is often not the employee's negligence, but a lack of a comprehensive and structured system – or put it another way: lack of management process defined as technology.
Young N. Nguyen – CEO and Founder
Young N. Nguyen will be a contributor to HRR periodically in the future. He is the CEO, Founder, and co-owner of d2o, which develops innovative management software for cruise lines, hotels, and catering companies. d2o currently has over 400 customers in 15 countries and has a strong relationship with several top hospitality management colleges and universities.
Over the past 12 years, he has worked to realize his vision for achieving simplicity from complexity for users of technology. Throughout his career, he has parlayed his operational experience in F&B management and hotel operations at some of Europe's leading hotels into game changing technology for hotel operators. Recognized as a thought leader, Young has received multiple awards for industry innovation and company performance. He is a frequent industry speaker and guest lecturer.