The marketplace is becoming more transparent and efficient – transformed into a reversed-auction, where hotels essentially attract guests by offering the lowest price. As an industry practice, Revenue Management has taken away the hotel's control of profitability. But there is a way to get it back.
Revenue Management (originally called Yield Management) arguably got its big breakthrough in 1985 when American Airlines, under Robert Crandall's leadership, launched DINAMO, then the most advanced Yield Management software. It was introduced to mitigate the economic recession and stand against growing competition from newly established low-cost airlines like PEOPLExpress.
After just one year American Airlines could report a dramatic increase in revenue of more than 14% and an increase in profit of as much as 48%.Crandall later discussed his success story with Bill Marriott, CEO and Co-owner of Marriott International. In the mid-90s, Marriott could report a similar impressive improvement like the one American Airlines had.
These are two wonderful examples on how the Revenue Management concept and practice can help create an exceptional increase of the topline with lucrative profits. Revenue Management literature may often allure us to believe that the prevalence of revenue management has been solely good for the hotel industry. Some people in the industry are even talking about today's Revenue Management solution as if it is the most important initiative to deliver profitability.
It is my opinion that such beliefs are at best exaggerated and at worst can mislead to incorrect management focus.It's possible that Revenue Management provides significant comparative advantages related for the "first mover" – as was the case for American Airlines and Marriott. But this advantage erodes quite immediately as more players in the same market implement the same practice.
The prevalence of Revenue Management has largely evolved it to become a necessary evil in order to maintain – not improve – one's market position. Moreover, it transforms the situation into a zero-sum game in days when supply is greater than demand. In such a market situation, Revenue Management alone is no longer sufficient as a strategy to achieve profitable operations.
Revenue Management, combined with increasingly rapid development and widespread use of Internet and mobile technology, enables customers to gain progressively better and near real-time overview of choices. The marketplace is becoming more transparent and efficient, and thus is transformed into a reversed-auction, where the hotels effectively have to attract guests by offering the lowest price. Major investments to differentiate themselves, arguably apart from possibly location, would be less crucial to profitability.
Norway Case Study: Structural improvements have yielded economies of scale
Proliferation of Revenue Management for hotels in Norway, as we know it today, took place more than ten years ago. According to statistics on room rate published by Statistics Bureau of Norway (SSB), achieved average room rate was NOK 53 ($9.3) lower than what it should be if it should follow the inflation for the period of 2012-2008. In the same period, data (figure 3.3.4), issued by Horwath HTL Norwegian Hotel Industry 2012, shows that the average ratio of room nights per yearly FTE has risen.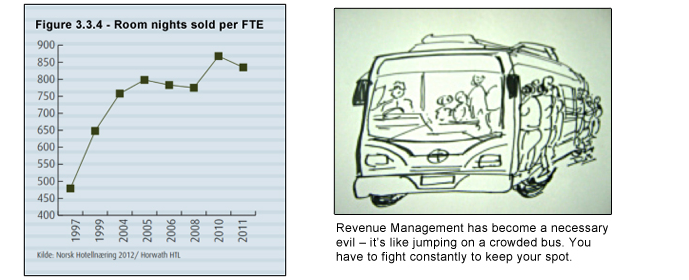 The (positive) fact is that it takes fewer FTEs to serve more room nights cannot be attributed to improved RevPAR – which is a key purpose of Revenue Management. The efficiency is a result of structural improvements, particularly with purchasing, marketing and supporting functions, which have yielded economies of scale.A rule of thumb in the hotel business is that for every dollar in cost, 10 dollars must be sold to achieve the same contribution margin at net operating profit. If the trend, exacerbated by Revenue Management, suggests price pressure, and it will fluctuate even more in line with demand, while the operating costs will increase in the future, what is one of the most meaningful things to focus on in order to deliver more sustainable profitability?
Hence the position that Revenue Management, as it is performed today, is a necessary evil, but it is not enough to deliver sustaining profitability. Tomorrow's winners are those who embrace solutions that are based on a further development of the Revenue Management logic in two areas:
Resource Management: Dynamic resource management based on relevant activity drivers that are fully integrated with daily forecasting in Revenue Management to ensure that changes to staffing and food purchases are aligned with the daily activity level to prevent productivity loss. (Resource management must be recognized as an essential discipline, which requires in-depth knowledge of cost behavior. The discipline must be exercised proactively like Revenue Management. Conventional budget control post event is no longer good enough.)
Total Revenue Management:Optimizing profit based on contribution margin related to the guest's total spending, including upselling of all products and services, and not just Rooms, to increase profit per available units (e.g., conference, banquets, spa, F&B, etc.)
The intent of this article is to start a conversation, provoking a more nuanced reflection on the possibilities and limitations pertaining to current Revenue Management practice, and to point out some of the opportunities that disruptive technology and organizational models offer those who dare to think and act differently and unconventionally.
By Young N. Nguyen
CEO& Founder
d2o
YOUNG N. NGUYEN is CEO & Founder of d2o (www.d2o.biz), the provider of innovative performance management methods and software for hotel, resorts, cruise lines and catering companies. d2o currently has over 400 customers in 15 countries as well as mentoring relationships with hotel management colleges and universities worldwide.
[/vc_column_text][/vc_column][/vc_row]