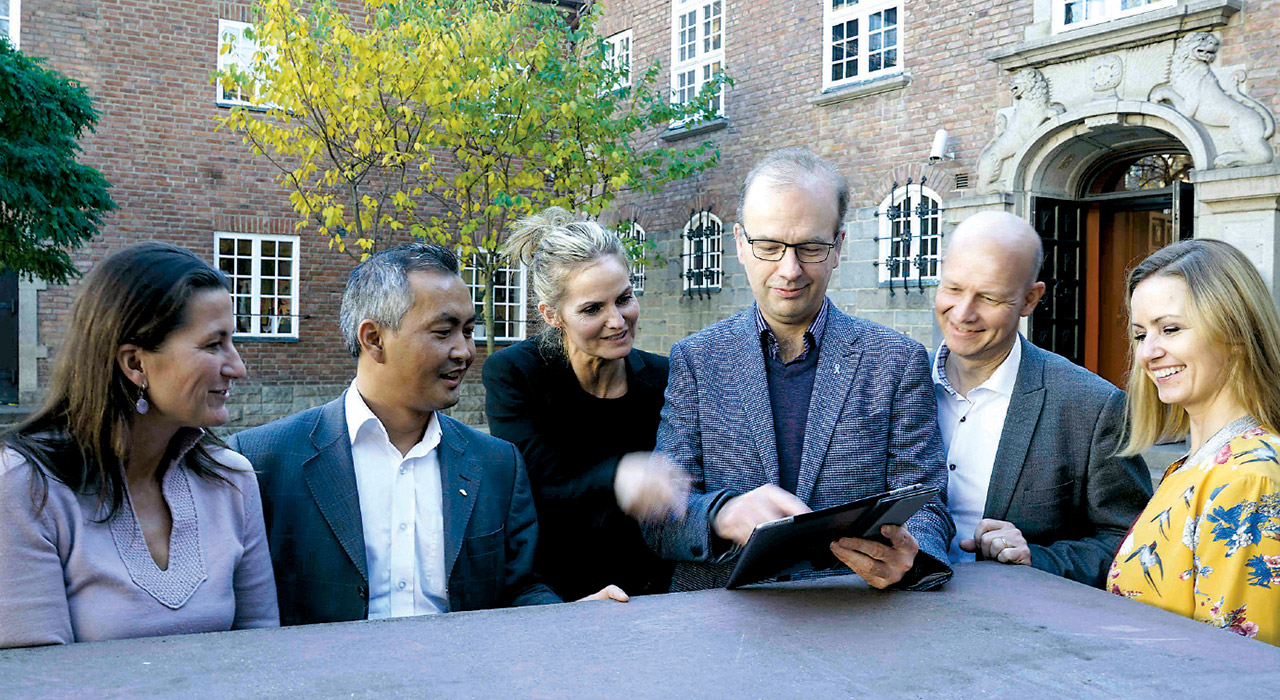 The PMI+ experience being evaluated: From the left, Trine Marsdal from Nordic Choice Hotels, Hoang N. Nguyen from d2o, Lina Krohn and Erik Retvedt from Nordic Choice Hotels, Anders Hernes from Profitbase and Cicilie Aalberg from Nordic Choice Hotels. (Photo: d2o)
Fight against Airbnb with cloud solution
The Choice Hotels chain now deploys a Norwegian cloud solution that will make hotel managers better equipped to compete – both against other hotels and Airbnb.
The Norwegian IT company Deadline2online AS asserts that their cloud-based management system, Performance Management Intelligence, abbreviated as PMI+, is in the process of providing competitive advantages to hotels and chains that make use of the solution. Now the company has secured the Choice Hotels chain as a customer.
We already see an improvement in productivity.
– Sara Björklund, Nordic Choice Hotels
Faster decisions
Within the hotel industry, competition is growing aggressively. Digitization contributes to sharpen the competition among the hotels, which necessitates a faster decision-making process. Tourism has become more flexible and the demand for hotel rooms is more unpredictable. From outside, the sharing economy is exerting pressure with services like Airbnb, which represented 22 percent of Oslo's accommodation capacity in 2016.
Accuracy of forecasts is crucial for the economy of the hotels because it influences the ability of hotels to correctly calculate requisite staffing in areas like housekeeping, and food and beverage purchase.
From Excel to cloud solution
The Choice Hotels chain has now decided to sunset its in-house developed server-based IT system in favor of the cloud-based PMI+, which is also being used by some of its competitors.
At the Choice hotels, planning was previously a tedious and, to a high extent, manual process in Excel. It provided the hotel managers and the chain management with hard-to-read reports at the end of the week or even month. This was often too late to provide a reliable baseline for purchasing and planning.
PMI+, on the other hand, provides easy-to-read information graphically displayed on a dashboard and is available on a daily basis.
The solution is now being adopted by 1,200 Choice managers at 150 Choice operated hotels.
Productivity goes up
"We are already seeing an improvement in productivity, and a recent internal survey suggests that more than 80 percent of hotel managers believe PMI+ helps them or will help them improve their bottom lines," says Sara Björklund, project owner at Nordic Choice Hotels.
It is the Norwegian company Deadline2online – or d2o – that, in collaboration with Profitbase, has developed PMI+.
Deadline2online was established in Oslo in 2000, and the solution developed by the company is currently used by over 4,000 hotel managers at approximately 400 hotels worldwide.
In addition to the Choice Hotels chain, a number of other hotels and restaurants in Norway are on their customer list, including Radisson Blu, Scandic and Thon Hotels.
The collaboration partner Profitbase AS is also a Norwegian IT company. They have been developing corporate performance management solutions for many years.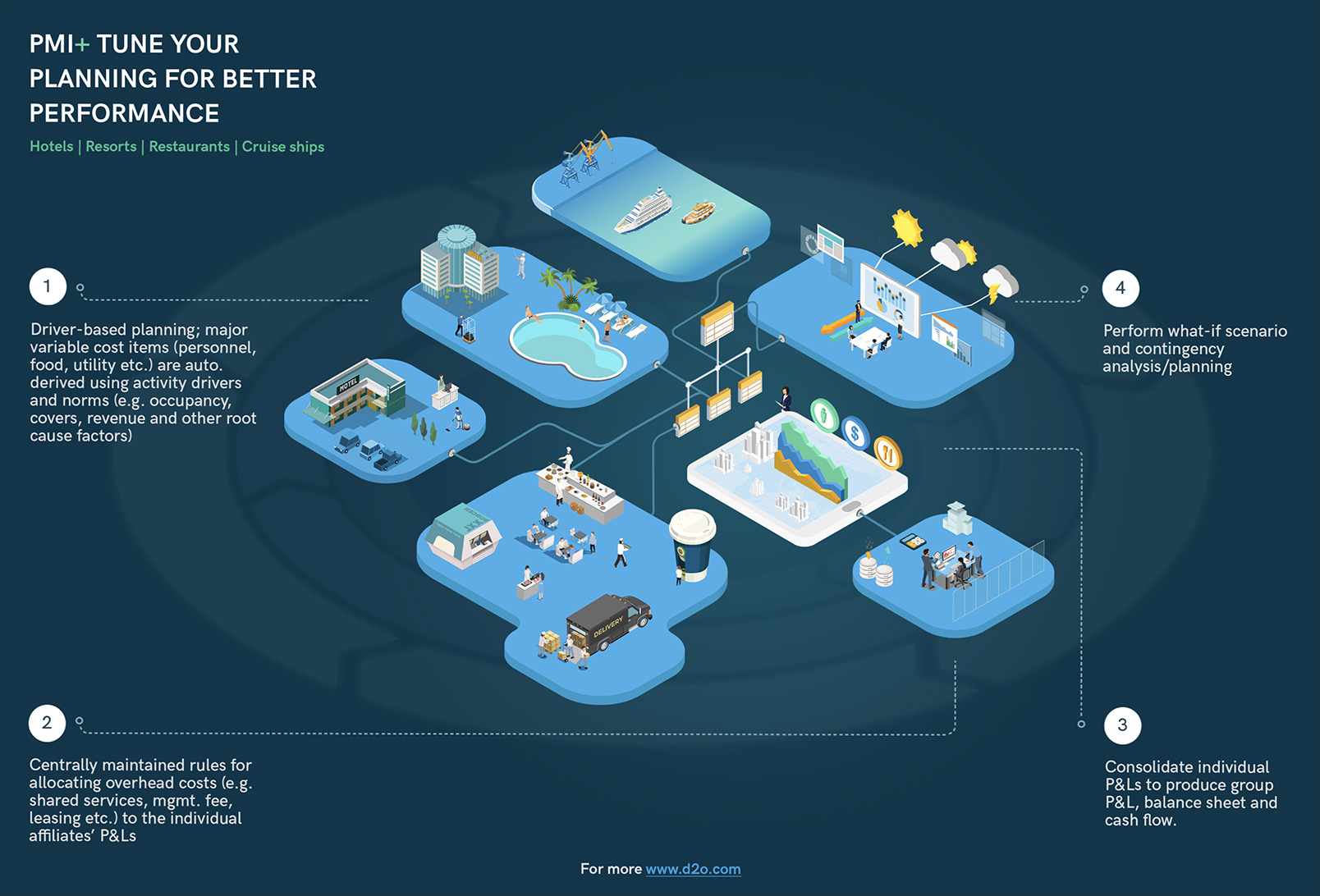 PMI+ solution enables hotel managers forecast, plan and execute staffing and food purchase reliably while making group consolidation, reporting and analysis seamless and in near-real time. (Infographic: d2o)
Visual data
One of the watchwords for PMI+ is visual presentation of data. The information supported by delightful design is much easier to read than the old Excel views.
The individual hotel general managers and the chain management get unique insights into the current situation and the forecasts, both in relation to their own business and the others in the chain. When these numbers become available on a day-to-day basis, it contributes to increased engagement and competition between hotels, claims Hoang N. Nguyen, one of the leaders of d2o.
Airbnb competition
The hotels that have chosen the solution say they keep increased competition posed by the sharing economy in mind. It is hard to say how big the real competition from players like Airbnb is. A master's thesis from the Norwegian School of Economics in 2016 suggests, however, that the competition is likely to be significant, according to d2o. Just in Oslo, there were nearly 4,000 Airbnb hosts, representing 22 percent of the accommodation capacity in Oslo.
The master's thesis concluded that the revenue of the hotels in Oslo in 2016 would have been NOK 132 million higher if the competition from Airbnb was absent.
The hotel business in the United States has previously asserted that it does not consider Airbnb to be a serious threat to the industry, but according to the New York Times, many have changed their mind last year and started to collaborate on measures against Airbnb. In some cases, this has resulted in federal scrutiny and tightening of the rules against illegal rental in cities like New York