Better and
Better
Don't you want to be able to see your property or chain status without the hassle of using your laptop or stationary computer? With the PMI App you can view your PMI information on mobile devices at anytime anywhere.
PMI R&P
at Your Fingertips
What is presented in the PMI App?
The PMI App shows full property status, down to the department level. The main focus is the Management Perspective view which displays the same information presented in the web version. The application is "Read only" in the sense that you cannot update your Forecast, Cockpit or Labor Schedule.
The PMI App uses the same security and authentication as the web version. The properties you normally have access to are the ones you can access via the PMI App as well.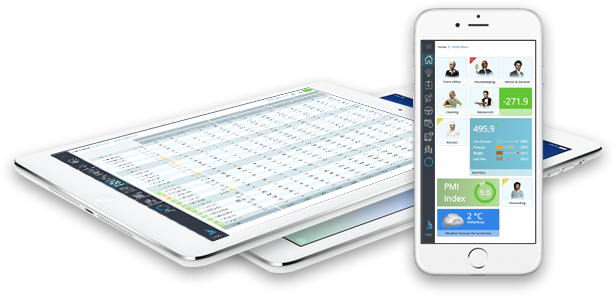 Hands-on exploration!
Explore first-hand what PMI can do for your business.
Contact us now to book a webcast demo of the PMI Suite.
Talk to our experts!
Our Benefits Realization Enablement (BRE) team is there to answer your questions. They ensure you make the most of PMI' powerful solutions.
Reach out today and we'll create a custom approach with you.
Face to face!
Ready to embark on a journey to soaring productivity and profitability levels with PMI? A d2o representative will meet with you in person to help set you up, train you and your team and make sure you're off on the right track.
Need more proof?
Does that all sound way too good to be true? We don't expect you to take our word for it.
That's why we've put together a case study about our client Pandox Hotels and the amazing results they've gotten from PMI.